Whether the memories of good old times make you cheerful or put you in a pensive, retrospective mood, there is sure to be a rendition of the melodious and soulful  'Auld Lang Syne' to suit your mood.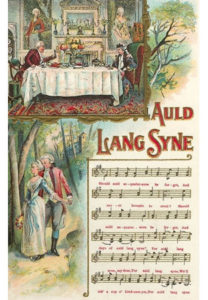 Auld Lang Syne is an old Scottish Ballad that can be translated as 'Old Long Since' and which would loosely mean – "For Old Times' Sake". It is a song about welcoming the new times without saying 'goodbye' to fond old memories and is hence, played on New Year's Eve in many countries including Hogmanay in Scotland . The soulful lyrics also make it appropriate for playing at events of major departure like a Funeral.
This beautiful poem was penned by legendary poet Robert Burns who was inspired when he heard an old man singing a similar ballad. The poem has an interesting history that I loved reading about. However, it was Burns who gave us Auld Lang Syne as we know it today.
The Song of 'Regret' and 'Anticipation'
Before I send you to the 3 heart-warming videos inspired by this song, let me share with you the original lyrics (English) to this lovely Scottish melody of keeping long-standing relationships.
Should old acquaintance be forgot,
and never brought to mind ?
Should old acquaintance be forgot,
and old lang syne ?
CHORUS:
For auld lang syne, my dear,
for auld lang syne,
we'll take a cup of kindness yet,
for auld lang syne.
And surely you'll buy your pint cup !
and surely I'll buy mine !
And we'll take a cup o' kindness yet,
for auld lang syne.
CHORUS
We two have run about the slopes,
and picked the daisies fine ;
But we've wandered many a weary foot,
since auld lang syne.
CHORUS
We two have paddled in the stream,
from morning sun till dine† ;
But seas between us broad have roared
since auld lang syne.
CHORUS
And there's a hand my trusty friend !
And give us a hand o' thine !
And we'll take a right good-will draught,
for auld lang syne.
CHORUS
Set to the tune of a traditional Scottish folk song, it makes for the sweetest music this side of heaven! Here are 3 versions of this song to suit your every mood. Time to stop the running machines and get lost in classic music.
Waterloo Bridge
Slow and rhythmic, the popular version of Auld Lang Syne from the 1940 movie – Waterloo Bridge is a lovely song to hum and even dance to. Named 'The Farewell Waltz' in this Vivian Leigh and Robert Taylor starrer, the song is as beautiful to watch as it is to hear.
Scottish Bagpipes Version
If the sound of traditional Scottish Bagpipes is alluring to you as it is to me, you will love this instrumental rendition. Shots of picturesque Scotland are also a treat to watch in the video.
Gregorian – The Damned Soul
The Gregorian Chants to the lyrics of Auld Lang Syne are unparalleled to any other version of the song. The simple video overlaying the two contrasting artworks – The Damned Soul by Michelangelo and Minimal Beauty by Heather are mesmerizing with the backdrop of the song.
What a beautiful song it is, indeed!  It plays with your heart bringing to mind the memories of old friendships that never die and old love that remains young throughout your life.